The Wallabies have pulled off the unthinkable against France after playing 74 minutes with just 14 men after a shocking controversy.
The Wallabies have ended seven-years without a three-match series win – and the side has done it with not much going their way.
The Wallabies were left stunned early when winger Filipo Daugunu went off with a wrist injury in the first minute before opposite winger Marika Koroibete was sent off in wildy controversial scenes.
Despite the setbacks, the Wallabies claimed the victory 33-30 with Noah Lolesio claiming the game-winning goal with 90 seconds left, before the Wallabies held their nerve.
They were impressive scenes but the big drama of the night was the send off, that had current and former rugby stars as well as social media erupting over the farcical scenes.
Rugby has been seen as taking a major step in limiting concussion by adopting stringent rules on head contact.
But it appeared to jump the shark with Koroibete's hit on French skipper Anthony Jelonch.
Hit front on from the kickoff that saw the ball spill free, Jelonch clutched his face as the ball rolled away from him and lay in a heap on the turf.
While the commentators said there was no issue, referee Ben O'Keeffe said it was direct to the head, came from distance, and there was no significant drop.
All Blacks legend Andrew Mehrtens immediately said "this is wrong".
But O'Keeffe gave him the red card as the Suncorp Stadium crowd went ballistic.
"Crowd's going berserk here boys, and I'm all for the welfare of players in rugby union but that's a really poor call from the officials," Tim Horan said.
Mehrtens added: "I'll go further and from an objective view point, that's an absolute travesty and we need to hear more about this. They painted themselves into a corner saying it's foul play and by saying there was no mitigation and I think they're wrong on both counts."
At half-time, all the discussion was still on the red card debacle as well, with Sonny Bill Williams piling on.
"It's very disappointing that a refs call can potentially decided the outcome of such a big game," SBW said. "We need to protect players safety but we also need to protect the game as well.
"What I'd like to see is a common sense rule come into play. Jelonch, the punter watching at home knows that he's going to be able to get up and play the rest of the 80 minutes, why for a contact like that, when he can play on, are we ruling him out of the rest of it? It doesn't make sense to me."
Current Wallaby James O'Connor said he agreed with Williams.
"We're trying to get that balance right but for me, it's pretty frustrating," he said. "If you're playing in the spirit of rugby, that's not something you do. It looked like blatantly Jelonch got hit, dropped the ball and then he reacted because of that. It's sort of brought us together a little bit and we're playing some faster rugby."
Wallabies great Tim Horan added: "I'm all for world rugby to protect the welfare of players all around the world but I thought referee Ben O'Keeffe got sucked into it."
And as the game continued, former Wallaby legend Stirling Mortlock tweeted "I'm sorry but I can't understand rugby ATM".
He pointed out France's first try scorer Baptise Couilloud who fended Wallaby Tate McDermott with an elbow across the face.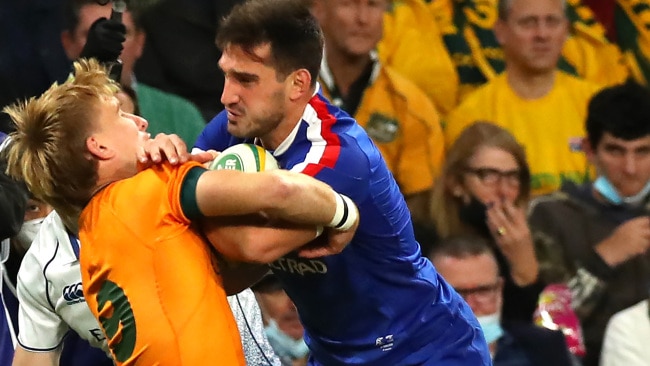 Baptiste Couilloud with the charge. (Photo by Kelly Defina/Getty Images)
It was similar to an incident that saw Australia lose to Wales in the World Cup group stages after Semi Kerevi was penalised for a similar charge.
Responding to a fan who said the Aussies were having a dummy spit, Mortlock replied: "My concern isn't having a dummy spit. It is genuine Rugby followers switching off or changing channels to watch other sports."
After the fans were furious about a penalty at the other end when Jelonch made a tackle on Len Ikitau that was high, Michael Hooper could even see the funny side as the referee didn't appear to penalise the French as he had the Aussies.
"There's 37,000 people here who think differently," Hooper said.
In commentary, they said "wasn't much in that", but the argument was that there wasn't much in the Koroibete hit either.
Post-match, Wallabies coach Dave Rennie said it looked like shoulder contact but conceded that the referees had to make the call with the angles they had seen.
"Ben's an excellent referee, but I think there were a couple of situations where our guys got clocked in the head but they didn't stay down, they just get up and get on with it," he said. "Maybe that's the difference."
The 33-30 result was massive for the Wallabies as Les Bleus are currently the World Cup favourites for the 2023 World Cup in France.